As I am preparing what might possibly be the most kombu saturated miso soup ever created (kombu is a source of iodine), I suddenly stop in my tracks and start to laugh.  My husband, who sits on the couch in an adjacent room playing Fallout on his xbox, pauses for a moment to ask me what is so funny.  From the look on his face, perhaps he thinks I have finally lost my mind.
"Shibuya Eggman."  I explain as I gasp for air.  "It never stops... being funny. It just... never...stops." 
Yes, it is true. Finally, finally something is funny again here in Tokyo.  And there is no one to thank but the folks over at Fox News, who recently displayed this lovely graphic on one of their "news programs."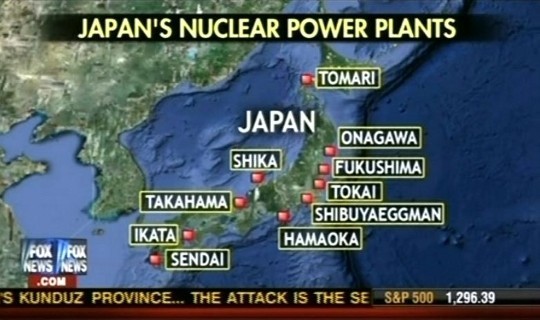 Now, what I`m wondering now is, If Fox News is going to put a nuclear reactor in a Shibuya nightclub, why Eggman?  There are plenty of other nightclubs in the Shibuya district with more appropriate names, as far as nuclear power goes. They could have easily gone with "Gaspanic," "Club Atom" or "Hazard".
But Eggman?  Just...why?  
And that doesn't even touch upon the mind boggling logistics of "how".
Just to add to the general sense of fun, the website for Shibuya`s eggman club now offers the following disclaimer:
一部で shibuya eggman が原子力施設であるという報道がありましたが全く事実と異なります。(It has been reported that shibuya eggman contains a nuclear reactor, but this is completely false.)
音楽を愛する皆様の心が原動力となってます。(The source of our power is found the hearts of everyone who loves music.)
Good to know.